Educator of the Year Nominations 23 - 24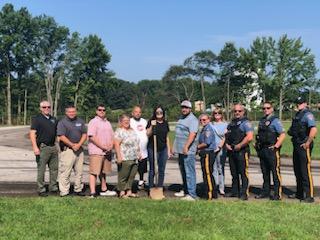 The Greenwich Township School District is excited to share that for the 1st time, Nehaunsey is able to get the track resurfaced AND we are also adding TWO Pickleball Courts as well!
Ready for more good news?
This project did not come out of our Operating Budget and at no cost to fellow taxpayers. With the support of our all of members of The Board of Education (Board President-Mrs. Susan Vernacchio, Board Vice President-Mrs. Erin Herzberg, Mr. Andrew Chapkowski, Mrs. Roseanne Lombardo, Mrs. Fiona Paterna, Mr. John Goetaski, and Mrs. Meghann Myers, we've received funding from a Recreational Grant that allows us to help better serve not only our students, but the Community as well! To help stay 'Green', eligible asphalt, waste, and dirt will be reused locally for future projects. The space is being utilized in a way to ensure the pickleball courts will not interfere with the soccer fields. Again, a huge thank you to our Board Members and local police for their participation in our groundbreaking. We are excited to see not only the finished product, but also to better service our children and community as a whole.